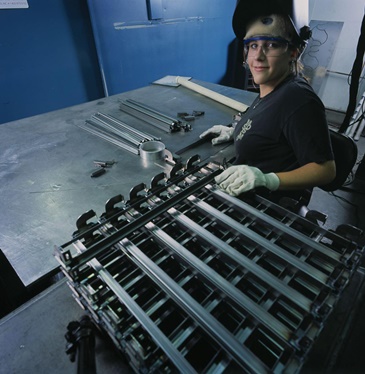 Employment Application
* Denotes required field. Information must be filled out for form to be submitted
TIG Welder's
Aero Tech Manufacturing Inc (ATMI) is currently looking for TIG welder's. This person is to join fabricated components to achieve desired results by using appropriate welding techniques. Applicants must be able to follow specified welding procedures per ATMI and customer requirements.
Job description:
• Looking for qualified welders in GTAW Gas Tungsten Arc Welding, GMAW Gas Metal Arc Welding, FCAW Flux Core Arc Welding for sheet metal and/or light structural steel, stainless steel, aluminum. Certified or ready to certify to AWS Standards.
• Should have own tools and personal equipment.
• Knowledge of fabrication drawings and AWS welding symbols.
• Willing to work shift work. Days and Afternoons.
• Overtime and weekends are required at times.
Minimum Job Requirements include:
•Must be 18 years of age or older
•Must have the legal right to work in the US
•Must have 2 years of trade schooling or equivalent work experience in the welding trade
•Must be able to read and interpret engineered drawings/specifications
•All applicants will be expected to pass relevant testing procedures for qualification records
---
Sheet Metal Mechanics/Production Shop Helper
Duties/Responsibilities:
• Experience in punching, laser cutting and forming
• All types of metal finishing (grinding, de-burring, polishing, etc.)
• Assembly of sheet metal parts

Skills/Qualifications:
•Can lift up to 30 pounds
•Motivated and capable of motivating others in a positive fashion
•Organized
•Safe work habits
•Able to work with minimal supervision
•Finish tasks in a timely, efficient manner
---
Mechanical Assembler
Job Responsibilities:
• This position will report directly to the Production Foreman. Read, interpret and follow basic blueprints, diagrams, engineering drawings, specifications, bills of materials, and other written instructions or procedures to accurately assemble equipment and products.
• Utilize hand held tools such as a hand held screw and drill gun, rivet tools, impacts, etc.
• Basic electrical, pneumatic, and mechanical skills are required.
• Maintain inventory of product in work stations.
• Must have or willing to purchase personal tools required.
• Must be able to read measuring devices as required.
• Perform quality work checks to insure the product meets quality standards.
• Must be able to assemble equipment and products according to engineering specification changes.
• Perform all work in accordance with quality standards and established safety procedures.
• Maintain a clean and safe work area.Additional duties as assigned by the Production Foreman.
Minimum Job Requirements – Competency:
• Must be 18 years of age or older
• Must have the legal right to work in the United States of America
• Strong knowledge of stainless steel procedure, ability to read a drawing, and ability to set up machine whether by past experience or detailed training
• Knowledge on how to operate basic tools, such as a pallet jack and determine material types and thickness by past experience or training
Performance Measures:
• Adherence to all safety policies
• Adherence to all quality systems procedures and policies
• Attendance/Punctuality – Is consistently at work and on-time; ensures work related information is passed on to the correct person when absent
• Ability to follow instructions and work with minimal supervision
• Performs all tasks efficiently and in a timely manner
---
Inside Sales


Function:
Generate new business and ensure growth of existing accounts. Assess potential application of company products and/or services and offer solutions that meet customer needs. Research and present reports showing potential customers the cost benefit of purchasing company products or services. Use technical knowledge of product offerings to support and build sales. Rely on experience, instructions and pre-established guidelines to perform the functions of the job.

Experience:
Requires an associate's degree and/or a minimum of 2 years of demonstrable experience of Inside sales of sheet metal manufacturing services. Has knowledge of commonly-used concepts, practices, and procedures within the sheet metal manufacturing field. Candidate needs to be computer savvy with a good working knowledge of Microsoft office (i.e. Excel, Word, and Outlook). We need a self starter and a highly motivated person to be able to communicate efficiently with the customer and amongst the manufacturing, engineering and accounting staff and to prioritize the daily tasks required.


Tasks:
•Solicit business from new and existing customers.
•Respond to RFQ's (request for quote) from potential customers.
•Accurately estimate pricing for manufactured goods based on data provided from the customer. (Auto Cad drawings, bill of materials, etc…)
•Collect material pricing from vendors required for new requests for quote.
•Set up Items and Item Routings in MRP Item Master for new orders.
•Set up and/or maintain purchased material Items in MRP Item Master to improve description consistency and query, as well as eliminate duplication of items.
•Maintain Item routings in MRP. Documentation of drawing revisions and update revision level, operations and material requirement in MRP Item Master. Process Shop routing change requests.
•Documentation of change order requests to recover costs for changes or adders.
•Documentation handling (i.e. copying and/or printing out drawings for both new request for quotes and fabrication order releases)
•Review of previous job costing for use in evaluating current pricing on repeat orders.
•Collect and report status and/or ETA of work in process upon customer request.
•Report shipments, packing slips and tracking numbers upon customers request.
•Filing and/or organization of project folders.
Salary:
•Commensurate with experience plus formulated commission plan.
Benefits:
•Health care, dental, 401K plan, Sales related expenses.
Respondents; Submit your resume to Roxy Hood, Aero Tech HR department. mailto:rhood@aerotechmfg.com
---